Professional Angler and TV Host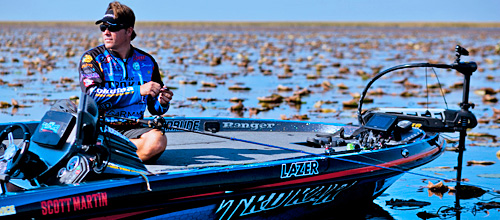 When Scott first started fishing the National Bass fishing trail, he was on a hot streak from the word go. His first year of fishing in 1999, he was awarded the FLW Tour Co-Angler of the Year title. He won his first national FLW Tour event with a purse of $100,000.00 in only his second event as a Pro in 2000. Since then he has amassed five more FLW wins including claiming the 2011 FLW Championship the "Forrest Wood Cup". Scott has amassed an amazing 28 top ten finishes on the FLW Tour. With 6 tour wins and 2.2 million in winnings Scott is ranked second in all-time money winnings and tour wins. With 13 FLW Championship qualifications under his belt, he has proven himself as one of the sports most decorated and consistent anglers.
In 2005, Scott started his own nationally televised fishing show called the "Scott Martin Challenge" Now in season 10, the show has gained a large following of fans and is one of the highest rated outdoor programs on air today. The show is a fast paced, high quality fishing show that has Scott fishing against some of the world's best anglers in many unique destinations.
When Scott is not traveling around the world fishing tournaments, promotions, filming or guiding, he is spending time with his family. Scott has been blessed with a wonderful wife (Suzanne) and four beautiful children (Jacob, Reed, Hilary and Amelia.) They spend time traveling and enjoying the outdoors together.